MegaSlam 72
3.025 €
Tournament Sale - Ends Apr 30:
2.799 €
Currently out of stock
Back in stock on June 01, 2021
FEATURES
The MegaSlam 72 is so pro it should be in an arena. Pound for pound it's the best adjustable outdoor hoop on the market with the most regulation-sized features. Pair that with the 20 cm x 15 cm monster-sized main pole and you know it's built to slam — All. Day. Long.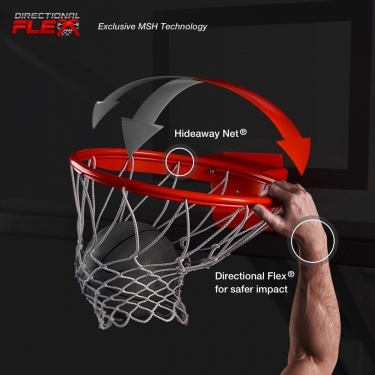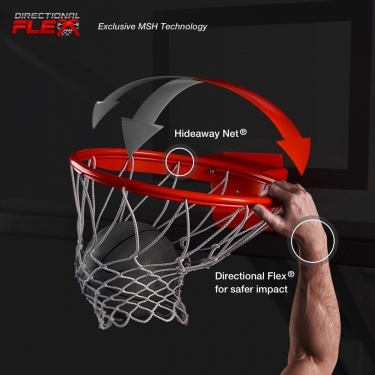 Our pro-style rim which offers break-away action from a full 180° like the rims the pros use. Directional Flex® Technology allows for slam dunks in any direction. Recessed Hideaway Net® attachment protects your hands when jamming. (Patent pending.)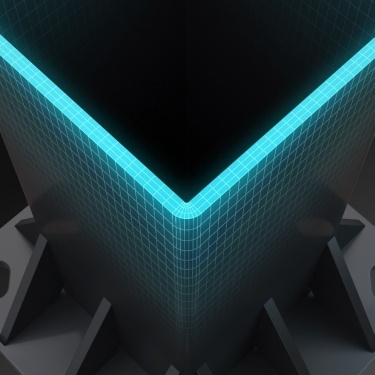 7-Gauge Strong Steel Pole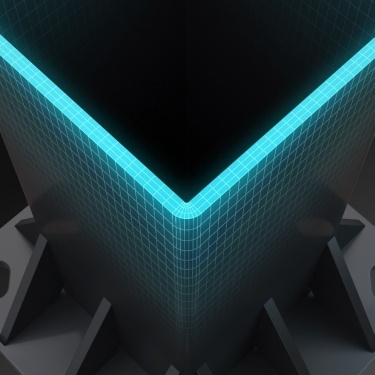 Our 7-gauge super-rigid steel thickness allows for a rock-solid game with little shaking or swaying. 
Double the thickness vs. brands sold at big box stores.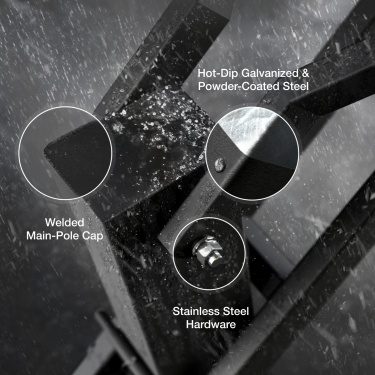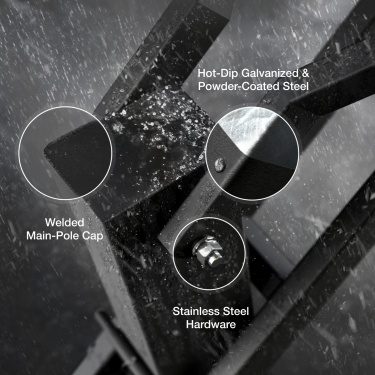 Every Mega Slam Hoop comes ready for scorching summers, rainy springs, and frozen winters with hot-dipped galvanized steel and stainless steel hardware. Standard.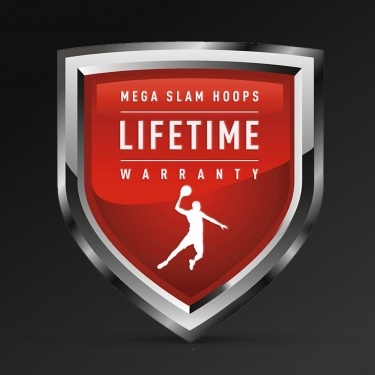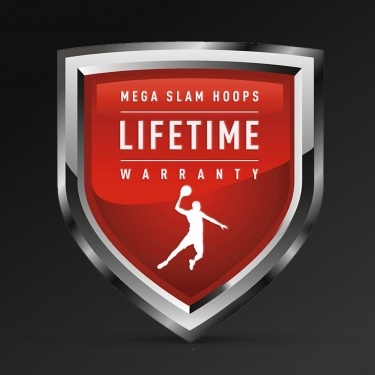 We stand behind our basketball systems and guarantee great performance for a lifetime of play -- even down to the nuts and bolts.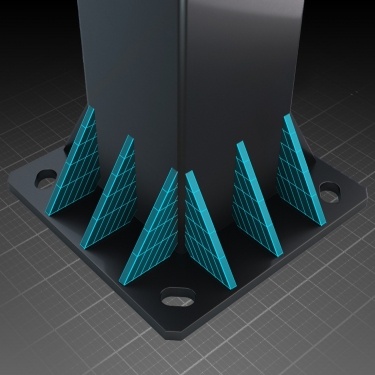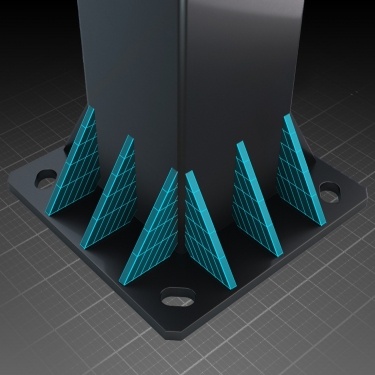 The MegaSlam 72 main pole is reinforced with 12 gussets, which is 50-75% more support than the competition.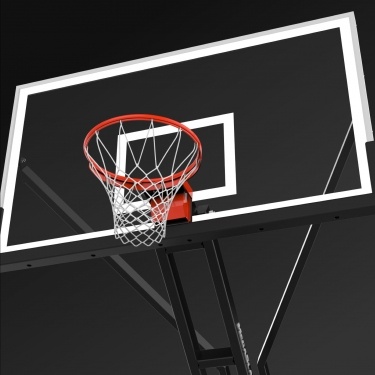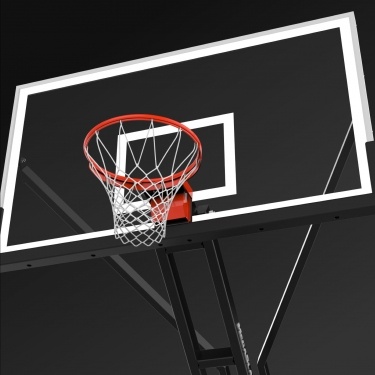 A regulation, 1,3 cm thick glass backboard provides maximum ball response at a regulation 1,83 m wide. You also see clean looks through the unobstructed clear-view backboard design.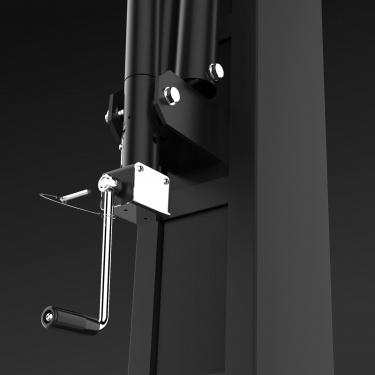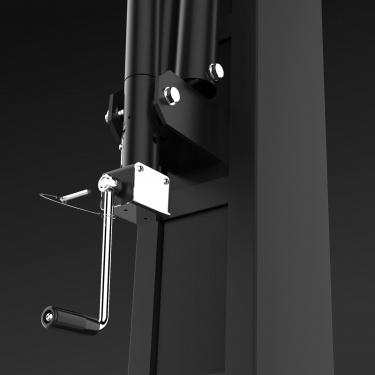 The Mega Slam 72 lowers from 3,04 m to 1,5 m so players of all sizes can dunk all day long.
WHAT'S INCLUDED?
From no-hassle shopping and delivery to guaranteed years and years of play—we strive to deliver the best experience possible.
Ask the other guys if they can say the same.
1
With every Mega Slam Hoop Purchase
Rust-resistant galvanized steel

5 cm-thick custom-fitted pole padding

Gusset padding

Backboard padding

Stainless steel hardware

Anchor kit with (4) J-bolts and rebar

Upper and lower adjustable steel arms

Limited lifetime warranty
2
In your Megaslam 72 shipment
20 x 15 cm monster-sized, 7-gauge steel main pole

Regulation-sized 1,83 m-wide backboard with 1,3 cm- thick tempered glass

180 Pro Rim® with Directional Flex® Technology

1 UV coated net

2 lift-assist cylinders

Height actuator and adjustable crank

5 cm - thick padding for main pole and base

2,5 cm - thick backboard padding
7-Gauge Strong Steel Main Pole
1,3 cm Thick Tempered Glass Backboard
Stainless Steel Hardware
Hot Dip Galvanized Steel Protection
5 cm - Thick Pole & Base Padding
2,5 cm - Thick Backboard Pad
Anchor Kit w/Rebar
LEVEL UP OR DOWN?
Each MegaSlam hoop is designed to bring you a superior play experience and last a lifetime. Each model brings a unique experience made for any size court or athlete.
LEVEL UP OR DOWN?
Each MegaSlam hoop is designed to bring you a superior play experience and last a lifetime. Each model brings a unique experience made for any size court or athlete.
Swipe left or right to size up the different Slams.
LEVEL UP OR DOWN?
Swipe left or right to size up the different Slams.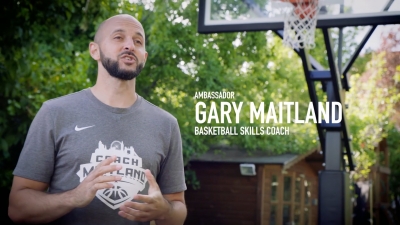 Mega Slam x Coach Maitland
Check out Coach Maitland's overview of the Mega Slam 60 / 72 and Game Light.
Mega Slam hoop is awesome!
My teenage son and I installed this ourselves. We were hoping that it would measure up to our hopeful expectations. Let's just say it exceeded all of them. This thing is solid as a rock. The completely clear backboard is majestic to the backdrop. It truly adds beauty to our property. A worker we had at the house yesterday stated he's never seen one so nice. We love that there is absolutely no give to the backboard or the rim on shots. But the breakaway rim is very nice as my son can grab onto it. I will not kid you, it requires some work to install. Digging the hole was a job. And we mixed 26 eighty pound bags of cement to fill the hole. After that the hard part was done. Could not wait for it to set up and dry to mount it. Me, my son, my daughter and I were able to lift the backboard requiring all the effort we had. While my wife put the bolt in. Doing the project with my son gives it all the more meaning and a sense of deep satisfaction when we do play on it. I reviewed the competitors on this and hands-down mega slam I believe has the best product.
GREAT PRODUCT FAMILY LOVES IT.
The only thing I didn't like about it was digging the hole. Lol the system was very easy to put together. I used a material lift hoist that I rented from Homedepot to help set the backboard in place because everyone was at work and I didnt want to postpone it any longer waiting for the weekend. So with that it just took me and my 15yr and my 12yr old sons to install the backboard. So easy to do it that way. I also got the court lighting system that was also so easy to install. My kids just live this system it was worth the money
See what it takes to install your Mega Slam.
We back our systems with a limited-lifetime warranty.