MegaSlam 60
2.799 €
Summer Sale - Ends Sep 30:
2.499 €
FEATURES
The MegaSlam 60 offers pro features while bringing all the durability and playability of a Mega Slam Hoop. The 1,52m wide backboard has a 92 cm overhang from the rock-solid 15 cm x 15 cm main pole. It's a good adjustable-height hoop that fits 2-car driveways or tighter court spaces.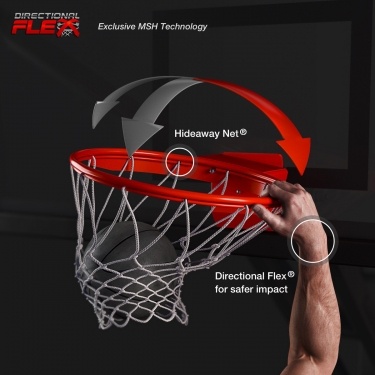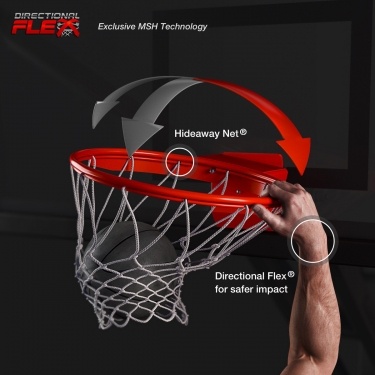 Our pro-style rim which offers break-away action from a full 180° like the rims the pros use. Directional Flex® Technology allows for slam dunks in any direction. Recessed Hideaway Net® attachment protects your hands when jamming. (Patent pending.)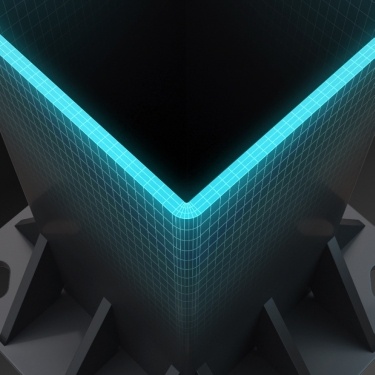 7-Gauge Strong Steel Pole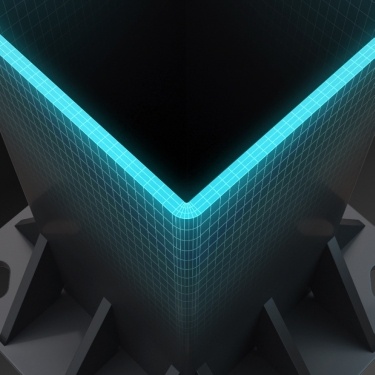 Our 7-gauge super-rigid steel thickness allows for a rock-solid game with little shaking or swaying. 
Double the thickness vs. brands sold at big box stores.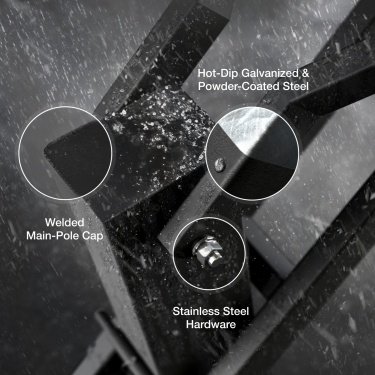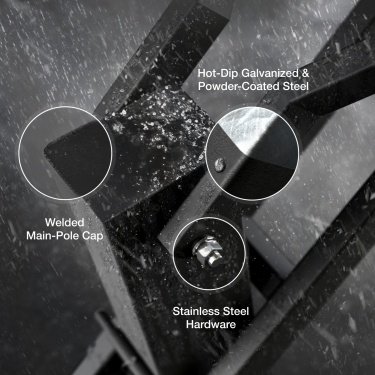 Every Mega Slam Hoop comes ready for scorching summers, rainy springs, and frozen winters with hot-dipped galvanized steel and stainless steel hardware. Standard.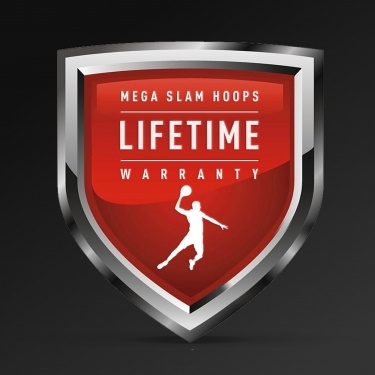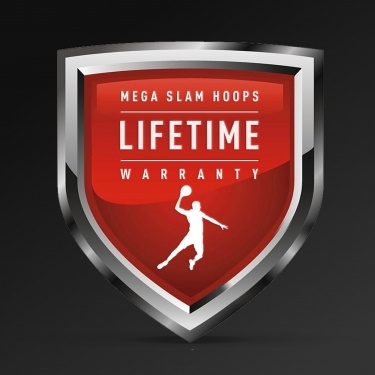 We stand behind our basketball systems and guarantee great performance for a lifetime of play -- even down to the nuts and bolts.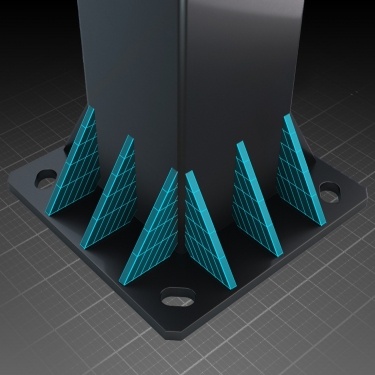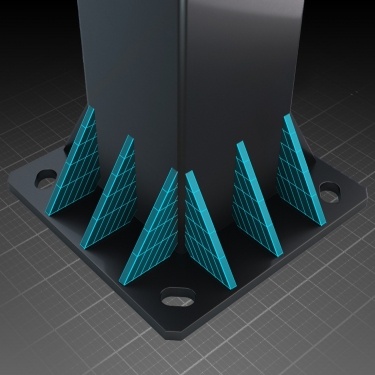 The MegaSlam 60 main pole is reinforced with 12 gussets, which is 50-75% more support than the competition.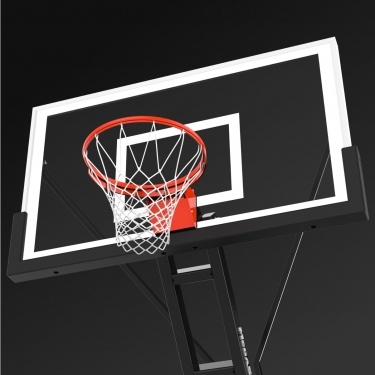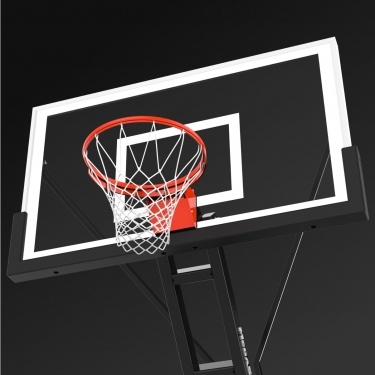 With a regulation, 1,3 cm thick glass, the MegaSlam 1,52 m backboard provides maximum ball response. You also see clean looks through the unobstructed clear-view backboard design.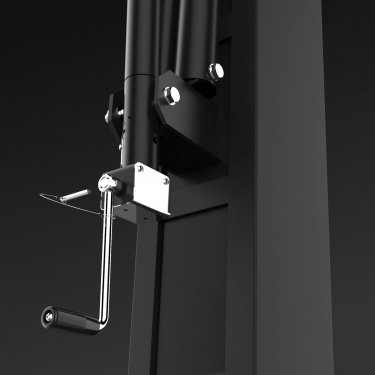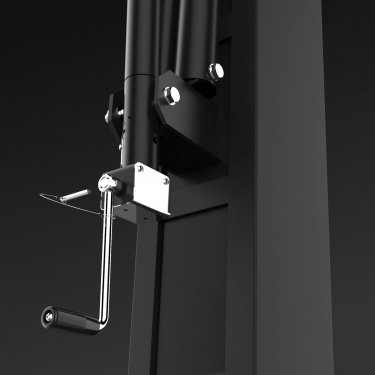 The MegaSlam 60 lowers from 3,04 m to 1,5 m so players of all sizes can dunk all day long.
WHAT'S INCLUDED?
From no-hassle shopping and delivery to guaranteed years and years of play—we strive to deliver the best experience possible.
Ask the other guys if they can say the same.
1
With every Mega Slam Hoop Purchase
Rust-resistant galvanized steel

5 cm-thick custom-fitted pole padding

Gusset padding

Backboard padding

Stainless steel hardware

Anchor kit with (4) J-bolts and rebar

Upper and lower adjustable steel arms

Limited lifetime warranty
2
In your Megaslam 60 shipment
15 x 15 cm monster-sized, 7-gauge steel main pole

1,52 m- wide backboard with 1,3 cm- thick tempered glass

180 Pro Rim® with Directional Flex® Technology

1 UV coated net

Height actuator and adjustable crank

5 cm - thick padding for main pole and base

2.5 cm - thick backboard padding
7-Gauge Strong Steel Main Pole
1,3 cm Thick Tempered Glass Backboard
Stainless Steel Hardware
Hot Dip Galvanized Steel Protection
5 cm - Thick Pole & Base Padding
2,5 cm - Thick Backboard Pad
Anchor Kit w/Rebar
LEVEL UP OR DOWN?
Each MegaSlam hoop is designed to bring you a superior play experience and last a lifetime. Each model brings a unique experience made for any size court or athlete.
LEVEL UP OR DOWN?
Each MegaSlam hoop is designed to bring you a superior play experience and last a lifetime. Each model brings a unique experience made for any size court or athlete.
Swipe left or right to size up the different Slams.
LEVEL UP OR DOWN?
Swipe left or right to size up the different Slams.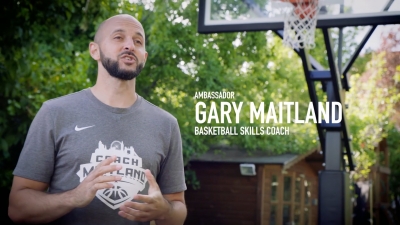 Mega Slam x Coach Maitland
Check out Coach Maitland's overview of the Mega Slam 60 / 72 and Game Light.
This thing is great! I debated on many other products but I'm happy I went with Megaslam. The hot dipped galvanized and powder coated steel should stand up to our Pennsylvania weather. This hoop is for kids now due to the 5' height, but I wanted something that could grow with our family. Large adults have dunked and hung on it and there is very little wobble. It is very stable. Not sure if every hoop designed like this is the same, but it takes a lot of cranks to adjust from 5 to 10 feet. The old style broomstick adjustment was much faster.
If you want the best, this is it
Of which it seems every other review speaks, this thing is HIGH QUALITY! Wow. I can't get over how much better this makes shooting hoop in the driveway! Such a drastic difference from the water/sand filled portable hoop! The way the ball bounces off the rim and backboard changes everything! Even the net makes a beautiful "swish" sound. The quality of the components, pole, backboard, rim, etc. are extremely nice (and heavy)! Install of the hoop itself was pretty straight forward. I recommend using some of the videos found on youtube for added tips and tricks. The one I found most helpful is titled "Install a basketball goal like a pro". It's from 2016, but seems to still apply. I was able to get the hoop itself (meaning pole, backboard, rim) installed with the help of my wife and adult son. Really need at least 2 adult (or older teen) males in my opinion. The most difficult part of the install process by far was digging the hole! Of course that will also depend you your soil. But I highly recommend it as it's not that complicated. Installer wanted to charge me $1K to do it! Ouch. My only regret is that I did not get the 72". I got the 60". I'm playing on a 3 car wide driveway. I thought the 72" might be too large and intrusive, but after getting the 60" up, I don't believe it would be. Oh well, maybe some day I'll go ahead and replace it with the 72" as I assume it would fit right over the current mounting plate.
See what it takes to install your Mega Slam.
We back our systems with a limited-lifetime warranty.