Light Up The Night™
Introducing the Game Light®, a powerful LED lighting system that lights up your game without drawing a foul on your energy bill. Made for all free-standing Mega Slam Hoops with a 12"x8", 8"x6", 6"x6" or 5"x5" main pole. (Patent Pending.)
What's included?
(1) LED 12K-Lumen Light Fixture
(1) Light connector & power cord
(1) Galvanized & powder-coated steel light pole assembly
Weather resistant mounting parts & hardware
Compatibility
This Game Light® works with these systems.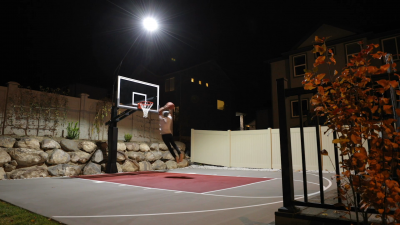 Review of a Mega Slam Game Light
"Easy install... Super impressed how well it lights up the court."
I ordered a megaslam 72 with the game light. Overall I am very impressed with the hoop and the light. The megaslam is very solid and sturdy with no movement. The 180 pro rim looks and feels like I'm playing on an nba rim. Last but not least the game light was a lot brighter than I expected, it lights up the playing area really good. Me and my family have been able to play a lot longer at night with no problem.
This light is awesome. Super bright, but doesn't flood the whole neighborhood with light. The price is well worth it. If I had a complaint, it's that it says not to use if it's raining. I wanted to have a motion sensor hooked up so this could double as a light for the driveway when coming home late.
Best basketball hoop and light
This is trust worthy company and their products. I have 54 megaslam hoop, protect net and game light installed in my backyard. The products are easy install and reliable. Their customer service response super fast and helpful. I really love it.